Sun Bear Outreach is a non-profit charity registered in France, founded in 2014 by Patrick Rouxel to embody his activities dedicated to the sun bears of Indonesia. The mission of Sun Bear Outreach is to improve the welfare of captive sun bears by acting directly where they are kept, raise local and international awareness on the sun bears, and reintroduce cubs to the wild.      
In Indonesia, Sun bears are threatened by deforestation, hunting and the wildlife pet trade, but very little is done for them and their plight receives no attention. Sun Bear Outreach is a step to fill this void in conservation and make life better for the sun bears.
Patrick Rouxel – founder and CEO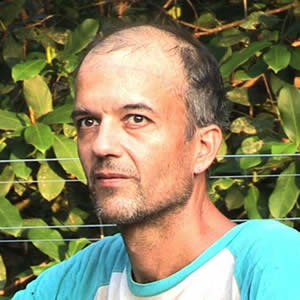 Born in 1966, I am half Swedish, half French and I grew up in Malaysia and Singapore. I studied Humanities at UC Berkeley in California, then Comparative Literature at La Sorbonne in Paris. After working for more then 10 years in the supervision of digital special effects for feature films, I decided to go freelance as a filmmaker for wildlife documentaries. Since 2003, I've been making films dedicated to the protection of the tropical rainforest and animal welfare. (www.patrickrouxel.com)
In 2011, a chance encounter with an orphan sun bear cub in the town of Sintang, West Kalimantan, Indonesia changed the course of my life. I ended up spending about 3 years in the forest with 3 sun bear cubs. Being with the bears in their natural habitat opened my eyes to the suffering of those kept in cages and triggered my commitment to improve the welfare of captive sun bears in Indonesia. Thus was born Sun Bear Outreach.
Christine Chiquet –Treasurer
I live in France where I graduated from the Ecole Polytechnique as an engineer and after 20 years of a professional career in corporates, I became a psychotherapist. I now work with people in pain to help them find a well being.
It is very important to me to do whatever we can to protect life in all its manifestations: humans, animals, trees, the environment, and oceans.  This is why I am vegetarian, why I try to minimize my environmental footprint and why I am active in different non profit organizations that focus on these issues.
Having seen through Patrick's films the dreadful conditions in which sun bears are held captive, it seems essential to me to raise awareness about the plight of these bears and to improve their living conditions whenever this is possible. I am very proud and honoured to be able to participate alongside Patrick to this cause through Sun Bear Outreach.
Caroline Rouxel Vidal – Secretary General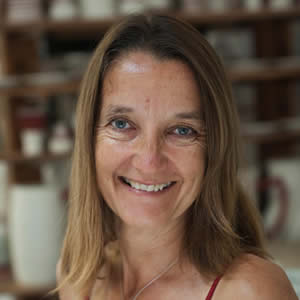 Born in 1964, I am half Swedish, half French and grew up in Malaysia and Singapore. I graduated with a BS in Boston USA and worked for 10 years in Japan and France in Industry. I am now a potter in the south of France. Ceramics started off as a hobby and it soon turned into a passion. So one day I decided to turn this passion into a career. I have been working for 15 years in the creation of functional ware. As a lover of nature and animals, I am happy to be an active member of my brother's non profit: Sun Bear Outreach.
Living in France, my husband and I educate our child with the notion that he is part of a planet where every life form has a place and deserves respect and preservation. In this world of consumerism, we try to our best to teach him how to value things as precious objects made from materials given to us by nature.
Aware of the destructive impact of man on our precious planet, I am happy to contribute to its preservation by helping out in my brother's non profit: Sun Bear Outreach.