MAKING LARGE FOREST ENCLOSURES FOR THE SUN BEARS AT BOSF
In 2015/2016, Sun Bear Outreach in collaboration the Borneo Orangutan Foundation International Foundation (BOSF), focused on building new bigger cages and renovating old ones for the 20 sun bears who were kept in small inadequate cages at the BOSF sanctuary in Samboja Lestari, East Kalimantan, Indonesia. For 2017 our present project, is to build several large forest enclosures for these same 20 bears.
The bears at Samboja Lestari are all adults who cannot go back to the wild because they are too habituated to humans and don't have the skills to survive in the wild. But they don't deserve to be locked up, on the contrary, they deserve the best possible captive life we can give them, which is to have access to some of their natural habitat and enjoy a social life with other bears.
Since 24th Oct 2016, we have begun the construction of the first of several large forest enclosures at Samboja Lestari. Patrick Rouxel, founder of Sun Bear Outreach, is on site as a long term volunteer, supervising the construction. With the financial support of BOS Switzerland and the funds raised through Sun Bear Outreach, we are now making a 2 hectare forest enclosure, a small training enclosure and a set of 3 holding dens.
The total budget for this first phase is 50 000 €. We hope to finish the work by February 2017 and begin the construction of a second large forest enclosure in March 2017. For the latest update check our NEWS/BLOG.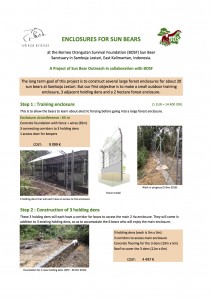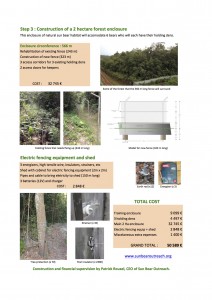 (clic to zoom)