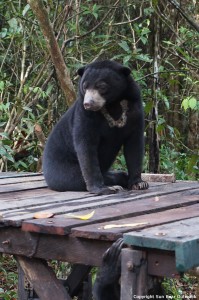 In early 2015, Sun Bear Outreach built a 650 m2 forest enclosure for two sun bears Ori and Komet at the Care Centre of the Orangutan Foundation International (OFI) in Pasir Panjang, Central Kalimantan Indonesia.
Ori was a young male who was handed over to OFI in January 2014 by the Indonesian Ministry of Forestry. He was bright, curious and full of youthful energy. In August 2014, Ori was brought to a remote release site to begin his rehabilitation to the wild. But for a number of reasons the rehabilitation stalled after 3 months, and Ori was put back in a cage at the OFI Care Centre. He was now unfortunately going to spend the rest of his life in captivity.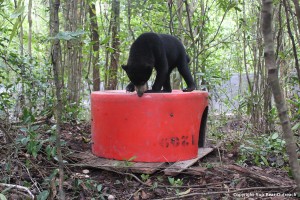 Komet was also a young male who was given to OFI in October 2014 by a private owner who had kept him as a pet. Komet was extremely habituated to human beings and likely too old to be able to successfully return to life in the wild. To make life a little better for Komet and Ori, Sun Bear Outreach decided to build them an outdoor enclosure.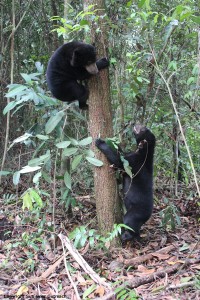 Ori and Komet have been together since December 2014 and have been enjoying the 650 m2 enclosure since April 2015. They are good friends, they love to chase one another in the enclosure and climb up trees. Ori is very fond of the pool, he can spend hours playing in the water. Komet prefers the tree tops